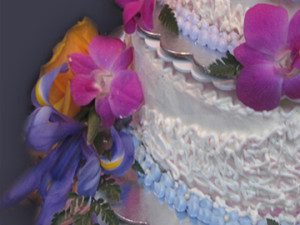 The story of Tat's Yummies is a story of love and passion for patisseries and delicacies. My name is Melina Fabian and I was born and raised in Switzerland with an Italian background. Baking runs in my family through generations. As a little girl I used to watch my grandma make bread and all kinds of specialties and I still remember the aroma of her delicious warm bread we used to eat.
As my love for baking grew I started sharing little delicacies and cakes with my closest friends. They all encouraged me not only by their valuable critics but also by their kind words. By the smiles and satisfied expression on their faces and the word "Yummy!" coming out of their mouth. This is how the name "Tat's Yummies" came about. The name "Tat" comes from this little boy David that is close to me. Since he started talking, he has called me "Tat". It comes from the word "tatty" which means "aunt" in French, too cute… and now my closest friends call me like that!
I now would like to share my passion for patisserie (pastries) and delicacies with you. This would be the opportunity for you to expand your pallet to different exquisite specialties from Switzerland, France, Italy, Germany and more…. and have a delightful experience with each bite of our delicious products.
---
|  Baking is an art, a journey of learning, growing and always being

open for new ideas and concepts  |  

This will go on forever and ever…
---
Education
After graduating from High School, I studied for three years as an apprentice under Mr. Albert Rappaz, Prilly Lausanne Switzerland. He was the specialty artisan bread supplier for l'Hotel de Ville Restaurant belonging to the internationally famous and renowned Fredy Girardet located in Crissier.
I then got my diploma (CFC) from l'EPSIC as a Baker/Artisan. It is a professional school in Lausanne which is internationally recognized by DGEP (Direction Générale de l'Enseignement Postobligatoire). I was employed as baker in Switzerland for ten years. I worked in a wide variety of bakeries, confectioneries, cafes, tea rooms and restaurants to improve and perfect this culinary art.
Since I moved to America I have baked exclusive delicacies for my friends, churches, farmers markets and social events!