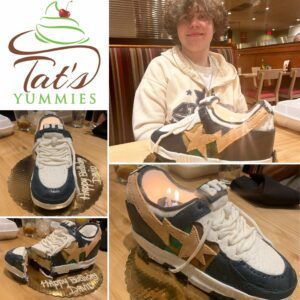 If you want to impress someone and leave a lasting memory this is it!!
We finished the last year 2022 with this B*PE (Bathing Ape) Sneaker Cake. It is made with layers of vanilla sponge cake and french vanilla butter cream plus a nice thin layer of Nutella. With fondant decorations.
It was created for the 17th birthday of this special young man who inspired the name of our business Tat's Yummies. The name "Tat" comes from this little boy David that is close to me. Since he started talking, he calls me "Tat". It comes from the word "tatty" which means "aunt" in French. Too cute… This little guy is now a precious and handsome young man. It is such a privilege and blessing to watch him grow and see him going through different stages of life. He is now driving and just received his first car. And with this cake we celebrated his life, his youth and all the future dreams he will achieve and the great memories we will continue to make.
Happy 17th Birthday David! Love you man!!
-Tat
Steve
ORDER FOR YOUR NEXT EVENT or
KEEP US IN MIND!! 
______________________
**Gift Certificates**
The Perfect Gift for that Special Someone.
Order NOW – FREE Shipping!